About Us
Purity and product quality, both are placed at an equal pedestal and considered equally important as we, Salasar Aromatics, sell our wide line of Fruits Essential Oil, Herb Essential Oil, Spices Essential Oil, etc. The standards of quality we follow as a manufacturer and exporter of the aforesaid line of products are the strictest in the industry. Following appropriate quality control techniques and subjecting each lot to analytical lab tests, we make sure that products we sell are 100% pure, natural, and suitable for use in aromatherapy and allied areas.
We are trusted by many as a distiller and product supplier as we have a solid background, excellent industry reputation, with a commitment to quality that is unsurpassable. We go to great lengths to affirm quality and therapeutic efficacy of different compounds and oils that we supply. For instance, we adopt best harvesting practices and distillation methods. We also conduct olfactory tests on the oils, further evaluating oils on their general appearance, colour consistency, etc., before oils and other products make their way to our esteemed buyers, worldwide. Substandard batches are rejected at the first step of the quality evaluation process, and only the best ones leave our testing labs to be bottled, properly labelled (with batch codes and ingredient details mentioned on each bottle) and then shipped off to interested buyers based across the world. Almost 50% of our overall output is distributed and sold in the global market.
Infrastructure & Quality
Spices Essential Oil that we offer are formulated in hygienic batches at our large production plant in Ghaziabad, Uttar Pradesh, India, wherein our team of experts strives every day to produce high quality goods in large volumes, especially for discerning buyers. Raw ingredients for production are sourced from the best plantations, and machines and equipment are regularly upgraded for boosting overall productivity at our plant. We abide by ethical manufacturing conduct and remain aware of our role as a reputable and trustworthy manufacturer at all times. We also stay quality compliant and work in congruence to the following quality certifications and standards:
Future Plans
To secure firm business footing across newer markets by employing our scientific & traditional processing know-how and expertise in bringing forth genuine quality products at negotiable prices for global buyers.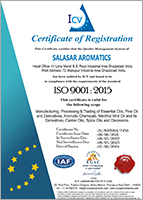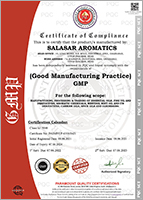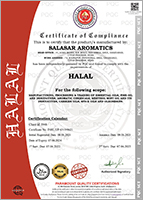 Read More